Our IoT support for a scaling brand
Many of us are hunched over desks and getting little physical movement in our everyday lives. That makes a massage sound like a special treat to ease our muscle pains and help our bodies release tension.
For Beautiful Me clients, the rollmassage experience is so simple to book and enjoy that it becomes a self-care routine, not an out-of-reach luxury. Beautiful Me's smart-massage salon is unique in the market and is the first international franchise originating in Estonia.
Since our partnership began in 2020, Krakul's IoT solutions have enabled Beautiful Me franchises to open doors in Estonia, Finland, Sweden, and Australia. With our collaboration, the company is on course to open franchises in Portugal, Malta, Canada, and the UK.
"In partnership with Krakul, we are always a big step ahead in the IoT field — looking for different ways to go further. Like I have said before: Beautiful Me and Krakul together will not only reach the Moon but Mars as well."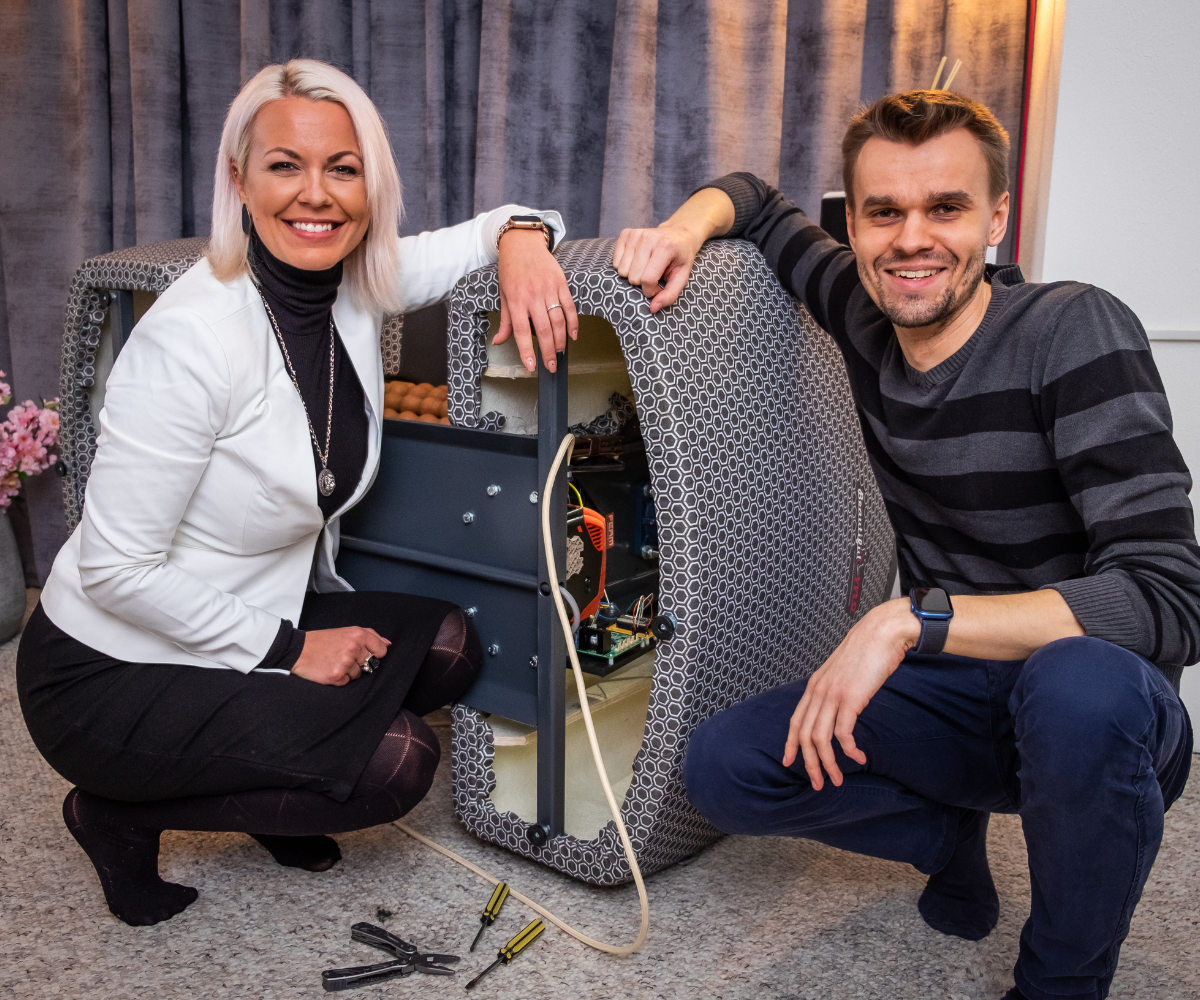 Making massage accessible to everyone
Originating the business in Estonia's summer capital of Pärnu in 2017, founder and CEO Kee Abel set out to bring the benefits of massage to everyone. With the help of lymphatic therapist Reio Vilipuu, the company developed a lymphatic drainage treatment program that would work with an automatic massage roller.
The goal was to provide massage treatment to everyone — including individuals that for cultural, religious, or other reasons may not have been able to get the benefits of massage. By creating a salon franchise business model that provides owners with fully automated rollmassagers and booking processes, the availability of massage becomes widespread and accessible. At the same time, Beautiful Me solves the industry's lack of consistency in service quality and availability.
Creating a fully automated rollmassage
With the Beautiful Me mission clear and the health-benefit expertise in place, the company needed a partner to execute the plans. This required the delivery of a functioning, fully automated massage roller programmed with a patented treatment program based on lymphatic massage.
Beautiful Me's original IoT partner delivered a product that didn't fulfill the needs of the company — or its clients. As a franchisor, the sub-par machine Beautiful Me originally received undermined its reputation as a trustworthy product and service provider. "I didn't want to worry whether our smart machines are working," says Abel, "I want to know that they will work."
The only way to make her vision a reality was to find a new IoT partner who could guide the development process and deliver a product that would improve the physical well-being of clients. The Beautiful Me team wanted an experienced partner they could trust to deliver. That's where our Krakul team stepped in.
Delivering product and providing guidance
Kicking off the collaboration in our industry usually involves quite a bit of preparation. Before we can begin to deliver on any agreements, we learn about the client's needs and industry, develop ideas, and determine the approaches we will take.
In our collaboration with Beautiful Me we had to take a different approach — and quick. With a product that wasn't living up to the Beautiful Me name and threatening the company's reputation, we had to work fast to do something that was even more difficult — improving something that was already there and designed by someone else.
We dedicated a team of developers and electronic engineers to address Beautiful Me's main priority — getting the produced rollmassage machines operating and stable.
Our team of developers and electronic engineers was able to get into the systems to dig through the design and the code. Once they understood how everything was programmed they brought everything up to industry standards and got things fully functional in less than two weeks. This got the salons with Beautiful Me rollmassage machines in operating order.
"When we first started our collaboration, I was immediately surprised at how capable the Krakul team is. Since our collaboration started with [Krakul] having to fix someone else's work, I knew it wasn't going to be easy. They did it with huge passion and devotion."

With the first set of rollmassagers working the collaboration was off to a strong start. Next, our joint mission became the expansion plans for the company. With a physical product that means building.
We got to it. With full ownership of the electronic and software components of the massager, we own everything from part sourcing to ensuring the end-user has a positive experience with any machine interactions. We kicked off by producing the hardware parts that control the roller. Beautiful Me has an additional partner that produces the structural and motor components. Our responsibility was to: confirm what parts of the current design we could use, adjust what we couldn't source the materials, and produce the necessary parts.
While production operations ran smoothly between all three parties, we expanded our focus to user experience. We agreed that people booking their appointments without contacting a salon was critical since it fit Beautiful Me's vision of accessibility. This decision proved to be pivotal as it coincided with the start of the COVID-19 pandemic, which limited person-to-person interactions. Once this feature was implemented people could have a fully self-guided experience — from booking to receiving a massage.
But we weren't done yet. Since then Krakul's partnership with Beautiful Me has included several other developments:
Inclusion of additional language options — allowing the franchise to scale successfully in new markets.

Adjustment of internal heating lamps to ensure salon operators can provide a more comfortable massage experience throughout the year.

Streamlining software systems to create more efficient scaling.
Since Beautiful Me kicked off its collaboration with Krakul, we've delivered 30 rollmassagers and counting.

With some of those rollmassagers now providing experiences in Australia, our team adjusted service provision to accommodate time zone differences. This was much simpler with remote debugging and support — enabled by our fully cloud-based solution. Erki Koplimets, Krakul's Project Team Lead, lists this development as one of his proudest moments. It allows Krakul to provide solutions to any issues within minutes — even if the machine is across the Baltic Sea or on a different continent.
"The biggest success is working well as a team and feeling secure and confident that everything that is in their expertise and part of their responsibilities gets done the way it has been agreed on or even better."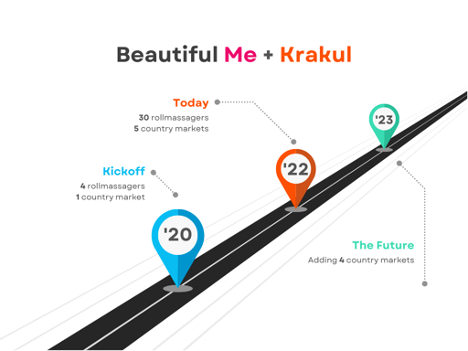 The expansion doesn't show a sign of stopping. The company received positive feedback on the rollmassage experience and our IoT solutions at a recent showcase in Dubai.
Most valuable, however, is the feedback the company is receiving from people who visit Beautiful Me salons. Reviews for Beautiful Me salons are consistently high. Meanwhile, the company regularly receives feedback about the positive health benefits clients see from using the machines. Krakul's contribution is also noticed, with even first-time clients reflecting that the self-guiding instructions are easy to follow, bookings are simple, and personal greetings at the start of sessions are a nice touch. Beautiful Me also reports that Krakul developed and enabled rollmassagers are booked more frequently than previous models — an outcome that we're proud of.
While Krakul started the Beautiful Me collaboration differently from other projects, our ability to navigate through challenges and help them scale their business is a win for our team. We're excited to continue delivering improvements and new features to the Beautiful Me product line.
If you have an IoT project you need help with — no matter which stage you're in — get in touch with our team.