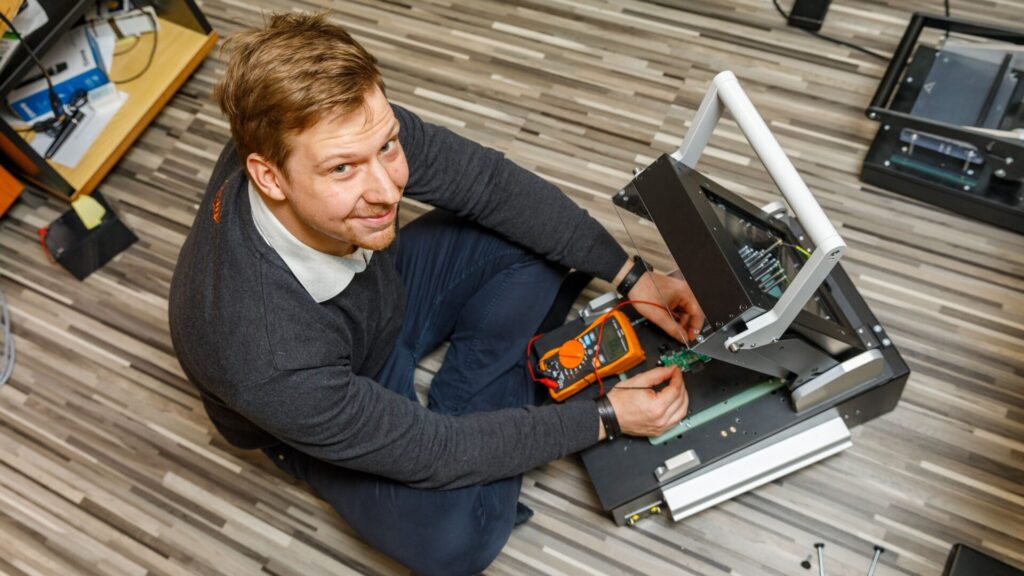 Krakul Team: Uncovered is a series of blog posts helping all of you understand who are the people behind Krakul.
Krakul is a full-stack IoT and autonomous platforms development firm, which means that we help our clients analyse, design, and create neat electronics solutions. In all this, having a hardware expert is essential. This is precisely what Kristjan brings on our table. He's a partner of the firm who ensures that our hardware solutions are on top of the latter.
Kristjan has worked in the field of electronics for five years – seeing how we build everything, from small devices to autonomous drones. He also has a bachelor's in electronics and telecommunications degree from Tallinn University of Technology.
As follows, here's a short interview with Kristjan in which he better describes his role at Krakul, as well as how he helps our team build the best hardware solutions for our clients.
What does Kristjan do at Krakul?
In Krakul, our team members are divided into two separate teams – blue team, red team. I'm responsible for the blue team, where we have 5-6 specialists who are working with technical solutions. It means that I make sure that our workflows are functional, and specialists always have a task in hand. I also solve everyday problems. A large part of my job is finding the best solution for our clients' problems.
What are some of Kristjan's daily tasks?
In a sense, my workday is chaotic. As a priority, my job is to keep our engineer's workflows impeccable, so that they have clear priorities and are satisfied with their jobs. In addition, I make sure that our clients' goals align with our own. Sometimes I also help design specific technical solutions and communicate with our clients.
What does Kristjan like the most about your job?
It makes my day when I see that the solution I helped to design, brings others joy. And fulfils some greater purpose. Meanwhile, our team and the sense of belonging keeps me motivated daily.
What are some of the biggest challenges in Kristjan's job?
In many cases, I have to go out of my way to get the job done. For example, now and then we get a task, unlike anything, I have helped to solve beforehand, which requires a fast solution. 
What skills does Kristjan's job require?
This job requires accountability. If you promise to do something, then you have to put your money where your mouth is.
Also, it's important to objectively evaluate yourself and reflect on your experiences to learn from previous mistakes. Many of the tasks that I have to tackle daily cannot be solved with just natural talent. Still, they are critical for the completion of the project and require self-discipline.
As for technical knowledge – all this is learnable and will stick over time.
Why did Kristjan choose to study electronics?
Ever since I was a little boy, I was always fascinated by technology and electrical devices. From that fascination, I picked my career.
Why would Kristjan recommend studying electronics?
There are countless opportunities in Estonia across the electronics sector. But studying to be an engineer only makes sense if you have a deep interest in the subject. It is definitely a great advantage to have a previous experience of working with electronics as a hobby.
Do you also want to be featured in Krakul Team: Uncovered? Contact us, and we just might find a suitable position for you in our team. Until that, follow us on LinkedIn and Facebook.