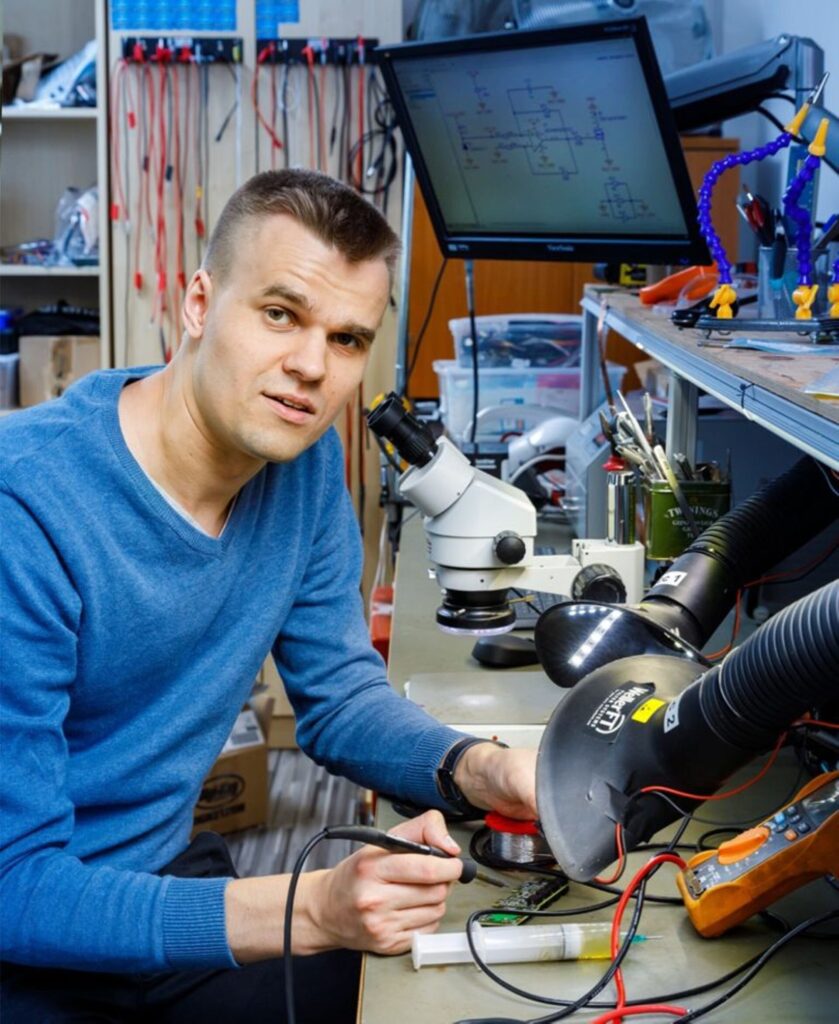 Krakul Team: Uncovered is a series of blog posts helping you understand who are the people behind Krakul.
The devices made by Krakul can be found in space, at a depth of 100 meters underwater, but also in cities around us. In space, equipment built by us orbits in CrystalSpace cameras.  At a depth of 100 meters underwater, the equipment we have created is in Flydog Solutions marine data acquisition devices. In cities, you can find our built-in equipment in Starship robots and Bikeep smart bike parking systems. But these are just a few examples; there are also UAVs, smart bottle openers, and scooter parking stations.
Every team that builds such solutions needs a leader who would bring it all together. That's precisely what Jaan brings to our table by being the CEO of Krakul. He has a bachelors in electronics and telecommunications degree from Tallinn University of Technology and vocational education in the field of mechatronics. Altogether, he has worked in the field of electronics for eight years.
As follows, here's a short interview with Jaan in which he better describes his role at Krakul, as well as how he helps to bring our whole team together.
What does Jaan do at Krakul?
I like to think of my job as enabling others to do their best possible job. I represent our company and the team, dealing with both short-term and long-term prospects, as well as look for new clients and partnerships for the future. At the same time, I have to ensure good cooperation in our team.
What does Jaan's workday look like?
On the one hand, I have to deal with everything that can happen throughout the day, which are not usually expected. On the other hand, planned things need to be addressed as well.  The most varied day recently began with the morning at a sawmill, then for noon, I went to meet with European Space Agency representatives and in the evening went out to gaze at drones.
What does Jaan like the most about his job? 
I love to be a part of the product development process, and I really enjoy the process of ideation and design. What motivates me daily is the fact that since we have built a company to its current size, then I cannot fail my team by letting go. Instead, I have to be the bold one who never gives up and keeps on moving.
What are some of the biggest challenges in Jaan's job?
I have significant responsibilities, but it's not wholly my burden. I also have to trust my colleagues to be accountable. The challenge is to keep common sense in organised chaos.
From the perspective of the company, I have to ensure that all necessary skills are represented. 
Meanwhile, building any of the devices we do is hard work. A regular consumer might not even fathom how many developments are inside a simple electric device, which are all critical for the device to function. E.g. space offers very different challenges as opposed to anything built on Earth. All these small details need to be considered, which is why we have so many different people with various skill sets in our team.
What skills does Jaan' job require? 
Communication skills and a good sense of humour. 
I have studied and worked as an engineer for some time, actually knowing my stuff. So I like to think that I'm capable of being taken seriously and have all the needed technical skills.
Why did Jaan choose to study electronics?
I always loved to build things with my own hands. Initially, I tried to study just computer science, but it did not light up my eyes the same way, as building physical things. So I decided to switch my major. 
Previously, I also had some involvement with the University of Tartu's robotics team, and I really liked how passionate others were about the profession, as well as how excited they were when building new things. The field of electronics is kind of a rabbit hole, where there is always a possibility to learn something new and do something better. It seemed like a good challenge.
I also liked that the electronics industry is broad enough that you don't just learn one thing only to become an "electronics engineer". The sector is large, and there are a lot of different careers. You don't have to be a technician, compiler or an engineer; you can also be a team lead, technical lead, marketing specialist etc. The options are endless, right personality traits combined with skills create the biggest value.
Why would Jaan recommend studying electronics?
Electronics has quite literally created the modern society. To think how many electronic devices we use every day, be it smartphones, screens, GPS's, fridges or something else. It is electronics that has changed our world as we know it.
As an electronics engineer, you can at the centre of innovation and develop products that can potentially transform people's lifestyle and well-being. Looking at our current global challenges, be it climate change or the ongoing pandemic, one of the most direct ways to save the world is to be a competent electronics engineer.
In addition, an electronics engineer does not have to worry about unemployment or automation. As there is a general shortage of specialists, the brightest get recruited straight from universities. Even I'm guilty of doing that. I once took part in a TalTech workshop where the lecturer asked who has worked with electronics before. A couple of guys said that they had been members of the Formula Student team, so I shouted loud and clear over the classroom: "Do you want a job!?" And that's how they ended up at Krakul. Electronics industry is continually growing, and we have to find driven people somewhere.
Do you also want to be featured in Krakul Team: Uncovered? Contact us, and we just might find a suitable position for you in our team. Until that, follow us on LinkedIn and Facebook.